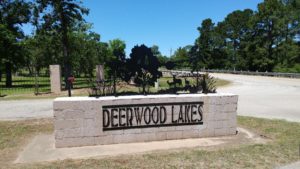 Deerwood Lakes Association, Inc., a Non-Profit Corporation,  is the governing Property Owners Association for the Deerwood Lakes and Deerwood East neighborhoods, which are located off of Highway 6 on FM 2979, just minutes from Hempstead and Navasota, Texas.
PLEASE NOTE:  DEERWOOD LAKES ASSOCIATION, INC. IS NOT A REAL ESTATE COMPANY NOR DOES IT SERVE IN THE CAPACITY OF A DEVELOPER.  PARTIES INTERESTED IN PROPERTY WITHIN THE DEERWOOD LAKES AND DEERWOOD EAST SUBDIVISIONS NEED TO CONTACT A REALTOR.
PLEASE NOTE THAT THE 2017 MAINTENANCE FEES STATEMENTS ARE DUE. In Accordance with Texas Property Code, all communications regarding maintenance fees must be in writing.
It is recommended that all communications be in writing.  The Directors for DWLA serve in a volunteer capacity without compensation and do not hold regular office hours.
Here are downloadable documents (PDFs) with information about the Deerwood neighborhoods.
2017 DEERWOOD LAKES ASSOCIATION general information
SELLING AND PURCHASING PROPERTY
2017 DEERWOOD LAKES ASSOCIATION DEED RESTRICTION HIGHLIGHTS
Here are downloadable Architectural Control Committee forms for property owners.  Please note that these forms must be completed, submitted, and approved PRIOR to any clearing or building on any property in the Deerwood subdivisions.
2017 Deerwood Lakes Association ACC Application for Clearing Revised
2017 DWLA ACC Application for Construction Revised